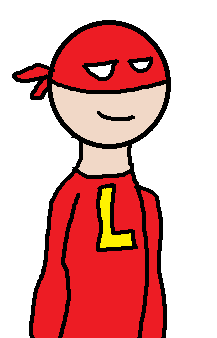 Harry is a fan in The Adventures Of Fans. He believes he is a superhero although he is not. His real form is never revealed. He is a human.
Appearances
Edit
Harry appears as a tall teenage boy who wears jeans and wears a red shirt with a yellow "L" on it. His ears are under his red mask along with his nose.
Personality
Edit
Yet to be known.
He is quite powerless for now, but his randomsy often cause trouble.
Weaknesses
Edit
He is weak.
The Adventures Of Fans.
He is kinda like Fanboy from Fanboy and Chum Chum.